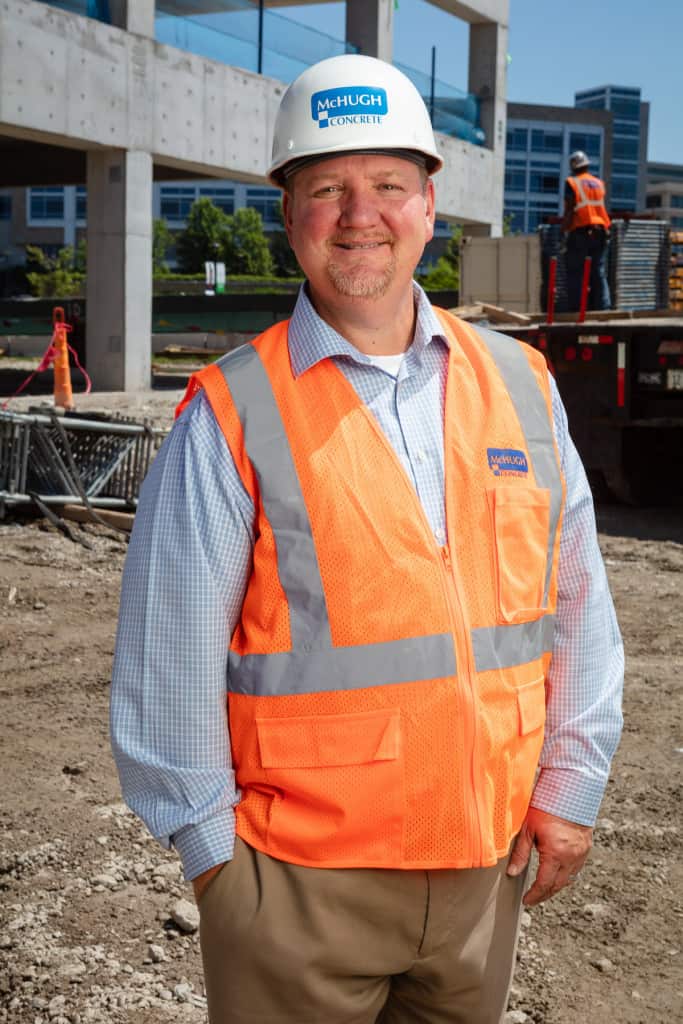 Brett oversees all McHugh Concrete operations and is responsible for overall management of the company. With over 25 years in the business, he has been on the forefront of pioneering uses of concrete. Prior to becoming president at McHugh Concrete, Brett oversaw concrete construction of the 92-story Trump International Hotel and Tower Chicago, one of the tallest reinforced concrete buildings in the world. He supervised placement of more than 180,000 CY of concrete over a period of just three years. He also managed installation of a concrete core for the 50-story Hyatt Center, the first Chicago building to incorporate terrorism-resistant concrete blast walls. As project executive, some of the buildings Brett oversaw construction for included 215 W Washington, 353 N. Clark, and the University of Chicago Hospital Center for Care and Discovery; and he led the company as president during the construction of One Chicago, while simultaneously bringing McHugh Concrete into the Nashville market to serve on such projects as the luxury residential buildings Alcove and Prime.
Brett is dedicated to maintaining strong client relationships, always keeping our clients' best interests at heart. His vision is to be a partner that, once hired, brings a peace of mind to the client that the project is in the best possible hands. He takes upholding our reputation as one of the top concrete companies in the nation very seriously and makes sure the team delivers the best possible service and quality on every project. Brett's leadership also includes a keen focus on employees. He makes sure each employee is well versed in our history and core values so that they feel like they truly fit into the company and enjoy coming to work. He wants great success for each employee and for everyone to feel that they've been given ample opportunity to achieve their goals. The culture he strives for is one that is team focused. Through hard work, communication, honesty and integrity, there is nothing the McHugh Concrete team cannot achieve.
What made you want to start a career in the construction industry?
I'm honestly very grateful to both my father and stepfather for having an influence on my choice to start a career in the construction industry. At a young age I started going to work with my dad who was in the masonry industry. By the time I was 14, I was helping my dad on the weekends as a laborer. By the time I was 20 I was running projects on the weekend as a superintendent for him. Also, when I was 19, my stepfather, who was the owner of a structural engineering firm, had me come in and start drafting for him using AutoCAD. It's those two experiences that lead me to make the decision to go to college and pursue a degree in construction management.
What is the most interesting (or favorite) part of your job?
The people we work with are my favorite part of my job. The people at McHugh Concrete are amazing! When I stop for a minute and look at what we accomplish on a daily, weekly, or monthly basis I'm truly amazed. The amount of expertise, intelligence, commitment, and hard work it takes by every single one of our employees to build the structures we build is nothing short of astonishing. I have to say that I'm honored to be part of such an elite team.
Why McHugh Concrete?
Commitment. Honesty. Excellence. Teamwork. Pride. Legacy. If you're a client we will bring all of this to your project. If you're an employee, we will bring all of this to your life!