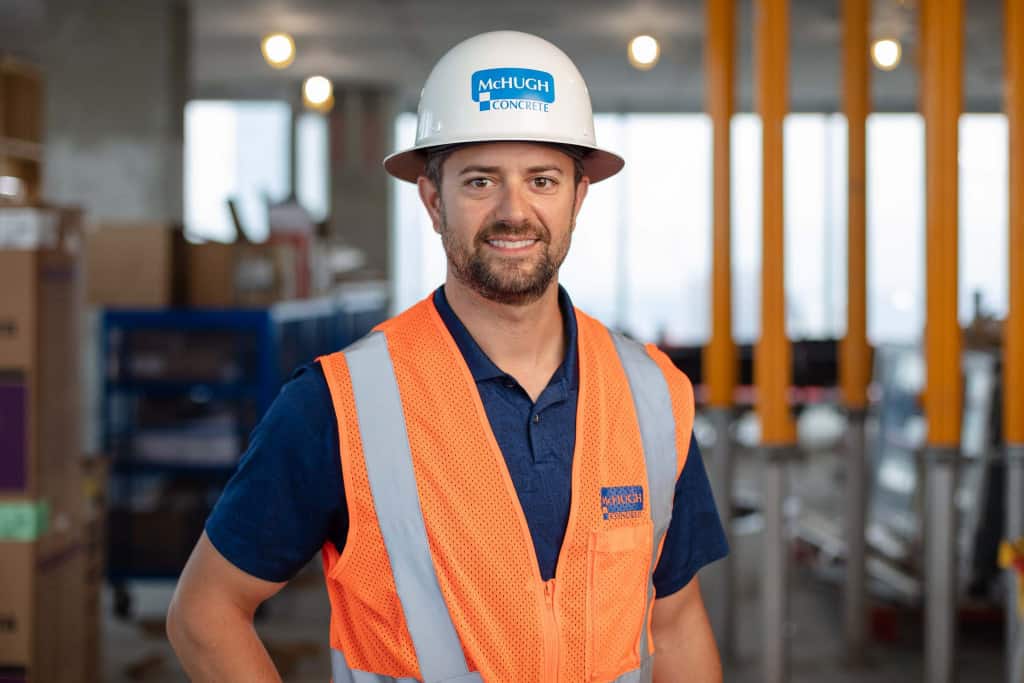 Mike Pagano
Vice President
As Vice President Mike oversees the project management side, training and ensuring all project managers uphold the company's quality and safety standards. He focuses on business development and maintaining client relationships, while driving strategic initiatives and creating growth for the company.  Mike started his career with McHugh in 2002 surveying as an instrument man in the field at 1111 South Wabash. He has worked on such prominent projects as the NU Biomedical Research Center, NEMA, and One Chicago. While each project has posed its own unique challenges, he considers laying out the slab edges at Aqua at Lakeshore East one of the most interesting.
What is the most memorable moment of your career?
I worked in the field for the first 19 years of my career before moving to the main office. I was fortunate enough to have the opportunity to work on some of the most iconic buildings built in Chicago during that time. Each of the projects I worked on have memorable moments of their own, but the most memorable moment came when we disassembled the One Chicago tower crane. After climbing down the tower crane and shutting down State Street, we had to setup an elaborate two-layer grid of crane mats for the 500-ton assist crane; which was setup between 2 existing ComEd vaults. The crane mats helped to distribute the loads over the active subway tunnel and station below. The subway tunnel and station were 3d scanned before and after the arrival of the assist crane to make sure there was no damage to the station and tunnel below from the loads of the crane. There was only one spot on the entire street that we could get the assist crane to work. There was an incredible amount of engineering through coordinated efforts from GEI and McHugh Engineering Group to pull it off. In the end, the whole operation continued without a hitch.
Why McHugh Concrete?
This one's simple, it's the people. I think McHugh Concrete has a really great group of people both in the field and in the main office. All our superintendents have many years of experience and a wealth of knowledge in the concrete construction industry. Back when I was a project manager, I knew that we had some of the most qualified group of superintendents in our area who make it easy to work with. It means a lot to be able to work together on a project as a team and to be able to trust each other. We also have a really great group of experienced project managers who ensure that everything on the project is completed on time and well organized.